Stop Duplicate Contacts from Ever Entering Your CRM
When you enter new data into your CRM, you should be confident it's not a duplicate. Your current workflow of trying to spot duplicates, if manual, is a time waster that still doesn't assure duplicate contacts won't enter your CRM.
CleanEnter is a duplicate finder tool. It stops duplications as you enter new CRM data. The tool checks against what is being entered against any potential duplicates before you create the new record. The check happens in real-time so it's a comprehensive search. It checks for duplicates by looking at accounts, opportunities, contacts, and any other record types. Watch the video to see it in action.
Easy and Seamless
Embedded directly into your CRM, CleanEnter works seamlessly and quickly. There are no extra steps or going back and forth between data sets. You can also use supplementary data from third-party sources to enhance data.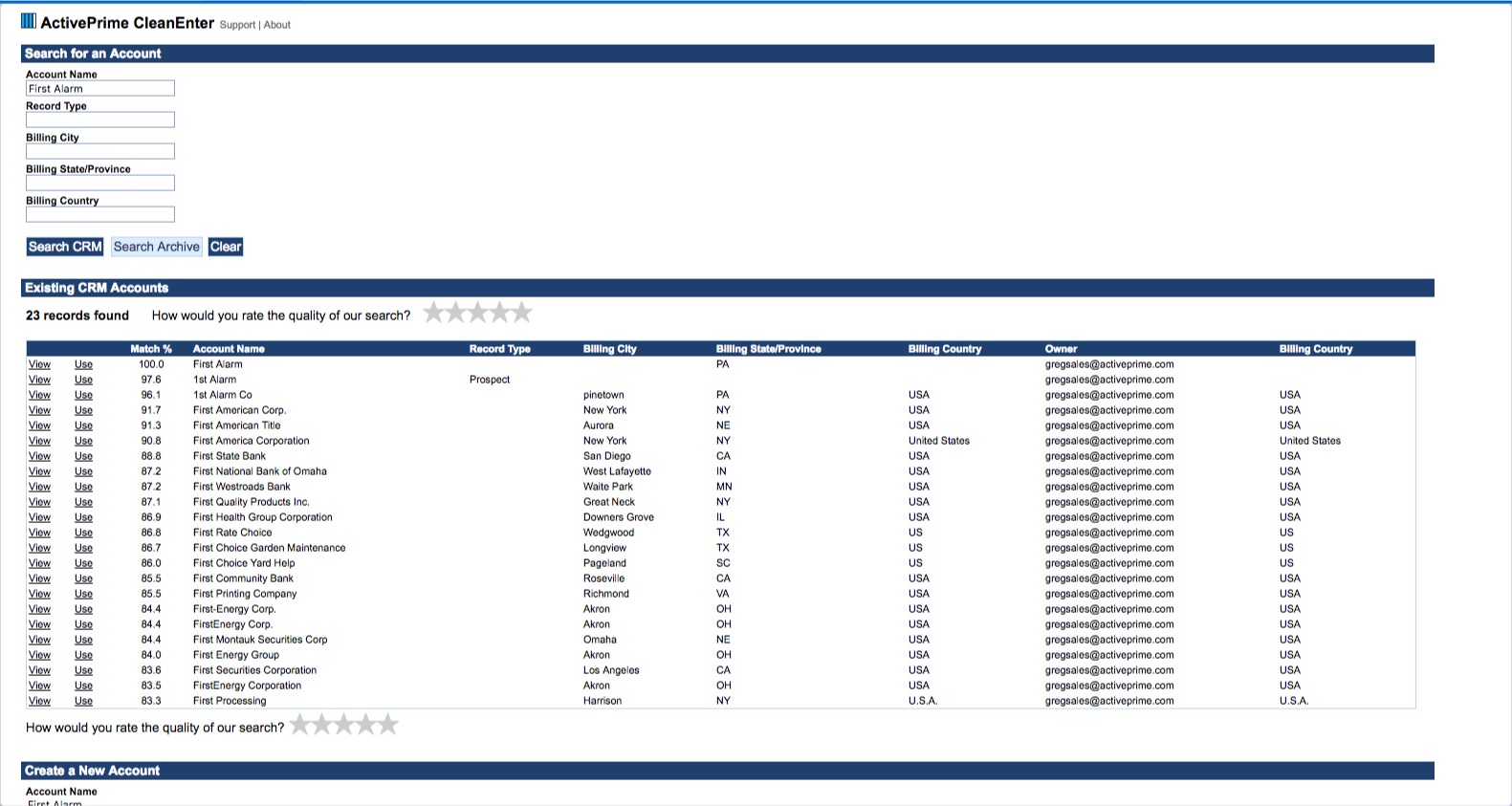 Duplicates Can be Stopped at Time of Entry
How many duplicate contacts in your CRM are caused at entry? Without a reliable duplicate finder at time of entry, the rate of this is probably quite high. This in turn means you're dealing with inaccurate data. The quality of your data matters. Eradicate duplicates at entry with CleanEnter.
Receive a List of Possible Duplicates
When you enter and search, you'll receive a list of potential duplicates to review. You can then match the record to an existing one or create a new one. Check once at entry for duplicate contacts and ensure only unique records get added to the CRM.
Manual Data Checking Isn't Reliable
If you depend on manual checking to find duplicate contacts, that's a long, frustrating road. Many entries in your CRM may be misspelled or be a nickname. So manually searching for Bob Smith in your database won't return Robert Smyth. CleanEnter does, using fuzzy logic duplicate finder intelligence. In one search at entry, you will be sure you're entering a record that doesn't exist.
Block Duplicate Contacts at Entry
Use CleanEnter to search for and return duplicates so that every new entry is really a new entry. Improve your CRM data by starting at entry. It's easy to test out the tool. Just complete the form, and we'll be in touch.
Stop Duplicates In Your CRM